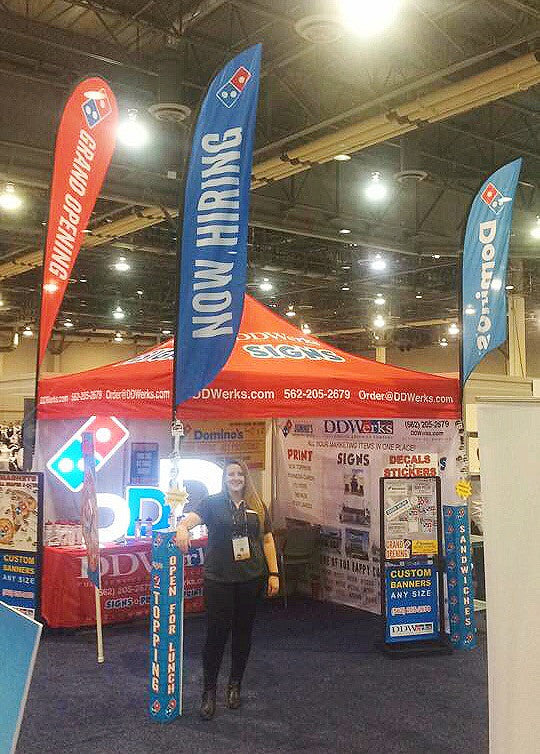 Welcome to DDDomino's, the site of your vendor for all Domino's signage, print, and promotional items! We are so glad you are here, and we are glad to be here as well!
We were lucky enough to meet many of you at the Domino's World Wide Rally in Las Vegas this past June; what a crazy fun couple of days! If you made it to our booth, you may have received a limited edition Domino's World Wide Rally 2016 water bottle, a coupon for 1,000 free business cards with your first order, or a DXP magnet with our information on it.
As many of you know, we have been working with a variety of Domino's franchisees nationwide for the past several years. We've created and installed countless new storefront signs, created marketing materials, and have made sure to be a resource for you, no matter what stage in the Domino's store establishment you are in.
We know that many more of you have the same needs as the franchisees who we work with now…which brings us here!
We have created this site to make keeping your stores fresh, supplied, and up to date as easy as possible! Here you will find a wide variety of products that we know you'll need, ready to order with a couple simple clicks.
Keep in mind: everything you see in our store is customizable! Need something with a different design? Not a problem. Give us a call or send us an email and we can create whatever you need.
DDDomino's will be offering new products all the time, so make sure to bookmark our site in your browser window to stay up to date.
If you ever have an idea that you don't see here or have questions about what you do see...give us a call! We are more than happy to help; we know you are busy and we want to make the ordering process as smooth as possible for you!
Can't wait to hear from you soon! Happy shopping!